AGNOLOTTI RICOTTA E SPINACI
BUONI DI CUORE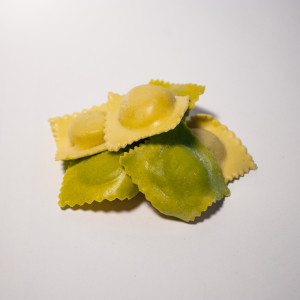 Risorse per produttori di pasta
Product
Commercial line
BUONI DI CUORE

Shape
Single shape weight (g): 8
Sheeted pasta
Main ingredient: durum wheat and soft wheat
List of ingredients: farina di GRANO tenero tipo "00", semola di GRANO duro, tuorlo d'UOVO (20%), acqua, spinaci in polvere (1%), farina di riso,
Other characteristics of sheeted pasta: egg
Filling
Type: cheese
List of ingredients: ricotta (46%) (siero di LATTE, sale), mozzarella (LATTE, sale, caglio), FORMAGGIO grattugiato (FORMAGGI stagionati), Grana Padano (LATTE, sale, caglio, conservante: lisozima da UOVO)), edamer (LATTE, sale, caglio), spinaci (7%) (spinaci, fibra vegetale, sale), farina di patate, pane grattugiato (farina di GRANO tenero tipo "0", olio di palma, acqua, sale, lievito, estratto di malto d'ORZO), sale, conservante: sorbato di potassio E202, noce moscata, pepe,
Filling percentage of product: 50
Cooking
pot (boiling water)
—
3 minutes
Nutrition facts/100g of product
Carbohydrates (g): 34,0
Protein (g): 12,0
Fat (g): 5,9
Energy (kcal/kj): 1010/239
Packs available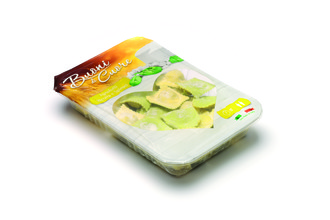 Type of storage:
refrigeration and MAP
Type of package:
heat-molded tray + film wrapping
Manufacturer

AL.DE.RA.FOOD SRL
Company data
International country code: +39
Telephone: 0112269860
Fax: 0112269930
Registered office
Via Giuseppe Massari,240/36
Production
Fresh pasta
Gnocchi and chicche
Certifications
ISO 9001, IFS
Distribution and sales network
Sales channels
Retail (Traditional trade , Retail channels , Large-scale retail channels)
Food Service/HO.RE.CA.
Private label / On commission
Domestic Sales Manager
Roberto Alpozzi +390112269860
Export manager
Marco Pennisi +390112269860
Information request
Fill in the form to receive more information on the product or a customized quote. Your request will be forwarded directly to the manufacturer's sales department.
To AL.DE.RA.FOOD SRL