CHICCHE DI PATATE
BUONI DI CUORE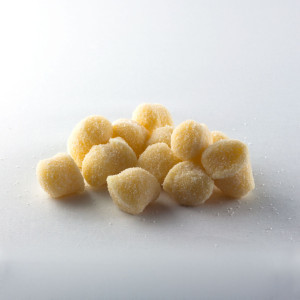 Risorse per produttori di pasta
Product
Commercial line
BUONI DI CUORE

Shape
Single shape weight (g): 2
Sheeted pasta
Main ingredient: potato
List of ingredients: acqua, farina di patate (32%), farina di GRANO tenero tipo "00", amido di mais, fecola di patate, sale, aroma naturale, conservante: E223 METABISOLFITO di sodio, conservante: sorbato di potassio E202, semolino di riso,
Cooking
pot (boiling water)
—
3 minutes
Nutrition facts/100g of product
Carbohydrates (g): 48,0
Protein (g): 3,6
Fat (g): 0,1
Energy (kcal/kj): 879/207
Packs available
Manufacturer

AL.DE.RA.FOOD SRL
Production
Fresh pasta
Gnocchi and chicche
Certifications
ISO 9001, IFS
Distribution and sales network
Sales channels
Retail (Traditional trade , Retail channels , Large-scale retail channels)
Food Service/HO.RE.CA.
Private label / On commission
Information request
Fill in the form to receive more information on the product or a customized quote. Your request will be forwarded directly to the manufacturer's sales department.
To AL.DE.RA.FOOD SRL